Setup Diode Drive
In order to start using Diode Drive, it must be installed and setup on your computer.
NOTE: If you were an Alpha user, you must re-install Diode Drive to get the Beta.
Install and Run Diode Drive
Download
Download Diode Drive for the type of computer you are running.
Install and run Diode Drive

On Windows

Double click the .exe file and the installer will lead you through the installation steps. Once installed, double click "Diode Drive" in the start menu to run it.
NOTE: You must have Microsoft Edge installed because the Diode Drive application UI requires "Webview"

On MacOS

Double click the .dmg file and drag the Diode Drive icon into the Applications folder. Once installed, click "Diode Drive" in the Launcher to run it.
NOTE: M1 Macbooks are not currently supported (as of March 15, 2021) - stay tuned via Telegram for support

On Linux (Raspberry Pi ARM shown here)

Set the File Permissions for the .run file to include "Execute" follow on screen instructions. Once installed, set the "dDrive Decentralized Storage" executable to have the "execute" property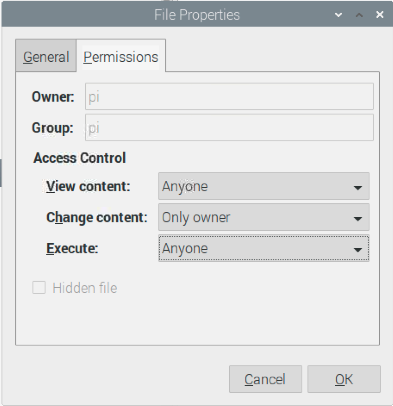 Open a terminal window and run the installer - it will extract to ~/dDrive

You can then either run it from a terminal window as ./dDrive from the ~/dDrive folder, or click the "dDrive.desktop" icon and select "Execute".

NOTE: Some Linux installations have a bug with the UI and file updates (as of March 15, 2021)
Verify it is running
When Diode Drive starts up, it will load as a small orange icon in the task bar:

Clicking the orange Diode Drive icon will drop-down / pop-up menu options.
Create a Diode Drive Name
You need to create a name to start using Diode Drive. For privacy advocates, please note that the name is simply an alias to the public address of the Diode Drive installation you are running.
Click Sign Up

Enter a name
Names are unique and must be at least 8 characters long

Allow the name to register
You will need to wait for up to a minute for your new name to register.

Create Your First Zone
A Zone is a collection of files, folders, and team members. Team members can collaborate real-time on the files in the Zone.
Once registered, the menu options will include the option to create a New Zone

Your new Zone (aka "Drive" in early Beta versions) can be named anything you like, and you can click the "..." button to locate the folder / files at whatever location you like on your computer (it defaults to a subdirectory called "Distributed Drives" in your user's home folder):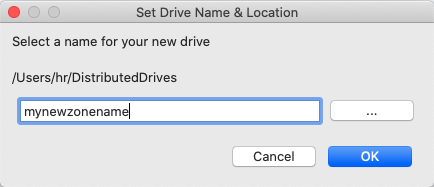 ----
That's it! Diode Drive is now installed with your first Zone - you can now:
Be invited to be collaborate with others' Zones
Create additional Zones
Use Diode Drive in conjunction with Google Drive to support Google Docs
To uninstall Diode Drive, see this article.
---
---