Create Your First Zone
A Zone is a collection of Team Members and Drives. Team members can collaborate real-time on the files in the Zone. Follow the two steps below to create your first Zone.
---
Once your Account is registered, the menu options will include the option to create a New Zone

---
Your new Zone (aka "Drive" in early Beta versions) can be named anything you like, and you can click the "..." button to locate the folder / files at whatever location you like on your computer (it defaults to a subdirectory called "Distributed Drives" in your user's home folder):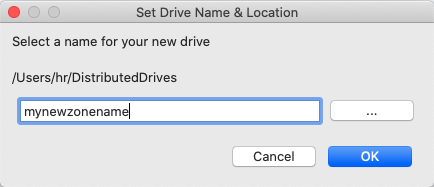 ---
That's it! Diode Drive is now installed with your first Zone! You can now add Team Members and files and start collaborating.
---
Other getting-started articles:
Use Diode Drive in conjunction with Google Drive to support Google Docs
To uninstall Diode Drive, see this article.
---
---